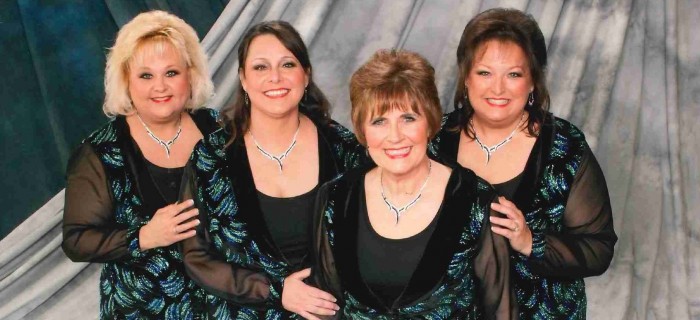 JAZZ!  has been together as this fabulous foursome for two wonderful years!  Jazz!  lights up the room with their close harmony and witty humor.
If you are looking for entertainment for a birthday surprise, a wedding, Mother's Day, Father's Day, Valentine's Day, banquet or just to bring a smile to a friend or family members face, give JAZZ! a call!    
The members of JAZZ!  reside in the Springfield Metro Area and are willing to travel to perform at your event!
Lead, Sherry Sampson and her husband (Jody) spend all of their free time just being newlyweds.  They search for eclectic décor and love anything Native American.  They are in the process of renovating their home and in her spare time she spends all the time she can with her beautiful grandchildren.
Tenor, Pamela Mallard is married to race car driver, Les (Papa Drake) Mallard.  Pam and Les love to travel to warmer climates along with the traveling to races.  Pam and Les say their greatest joy is to have all their family and friends close, they feel blessed!
Bass, Diana Schweitzer can be caught listening to all kinds of music, but barbershop is her passion.  One of the things that Diana loves to do is explore the caves of Missouri.  And yes, she is a sports nut, especially when it comes to the St. Louis Cardinals!  Sometimes if you drive by her house you will see her outside with her 4 grandchildren throwing a ball around.    Diana is a native Iowan but has lived in Springfield for over 20 years, but that does not stop her from attending the Iowa State Fair every year. 
One of Baritone, Tawny Browns favorite times of the day is kicking back after a long day of work with her mom (Georgann) for happy hour where they solve the world's problems and laugh (a lot)!   Tawny and her mom recently bought a house together and decorating is almost complete.  They will be looking for a new hobby soon and travel looks like a great option!  Tawny has five amazing grandchildren, three live in Tawny's home state of Iowa and she is lucky to have two living close to her in Springfield.
                                                                                JAZZ! is looking forward to singing for you!